Children & Youth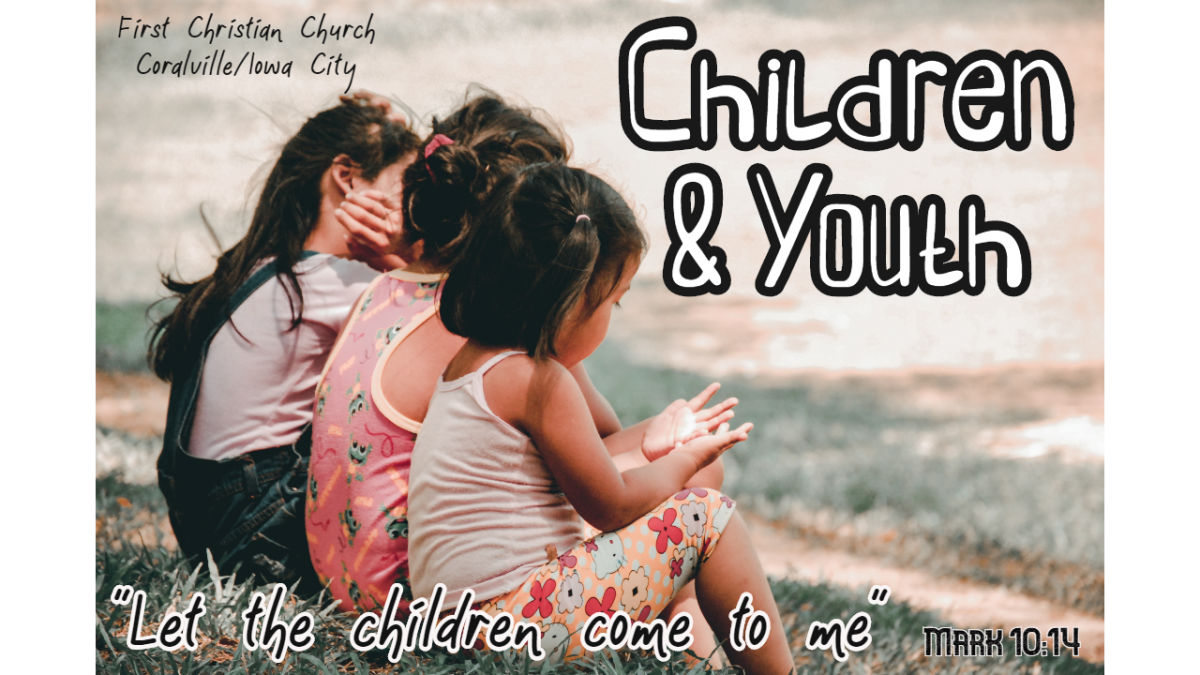 First Christian Church has many program offerings for children and youth. If you have questions or know someone who would like to take part, please contact Kara Seaton, Minister with Children, Youth & Families, by email or through the church office, 319-337-4181.
*At this time, our regular meetings for children & youth are on hiatus for the summer (Sunday School for preK-5th graders, JYF - youth group for 3rd, 4th & 5th graders, and Chi Rho/CYF - youth group for for 6th-12th graders). A few online and in-person opportunities will be available this summer, so be sure to check the weekly newsletters for the most recent information regarding dates & activities, or contact Kara.
Children & Worship
Children of all ages are always welcome in FCC worship services. Activity bags for younger children and binders for older children can help keep hands busy while still engaging them in worship. We offer a special space at the front of the sanctuary for kids in 3rd grade and younger to gather on rugs and engage in quiet activities including books, coloring and sensory worship materials.  *Worship is currently available in the church sanctuary at 10am each Sunday and through the church YouTube page.
Nursery Care
For families who would like to use it, nursery care is available for children ages 0-5 years starting at 8:45am and lasting through worship. The classroom is located on the lower level. *Nursery care is not being offered at this time.
Sunday School, 9:00-9:45 am (September - May)
Children are divided into K-2nd and 3-5th grades to explore Bible stories and faith through animated videos, hands-on activities and discussion. 

Youth in 6-12th grades meet to discuss topics related to the Bible, Christianity and history, social justice, faith and life application.

Youth Group
JYF Youth Group includes children in 3rd, 4th and 5th grades. They meet once a month to make friends, play games and do activities, take part in conversation and devotion meant to stretch this age group to think about what it means to be the hands and feet of God in the world.


Chi Rho (6th, 7th and 8th grades) and CYF (9-12th grades) youth have several opportunities to meet each month.  In addition to Sunday School, a community group meets weekly to give the youth the opportunity to build relationships and have a safe space to discuss hot button topics and faith.  Chi Rho/CYF also meets at least once a for large group activities, service projects and retreats.

The Helen Gay and Sunier College Scholarships
Scholarships are available from two funds within the church that were made available through the generosity of persons who were firm believers in the benefits of higher education. Applications are accepted each spring and are typically due May 1.
More!
Facebook Group for Children, Youth and Family Ministries
YouTube Channel containing weekly Children's Moments and other videos for FCC Children, Youth and Family Ministries
Welcome! Sunday, September 2021 (TBD)
Children & Youth Christmas Program, mid-December (TBD)
Easter Sunday, Sunday, April 17, 2022
Youth Sunday, TBD
Vacation Bible School, online and in-person programming in June 2021, REGISTER HERE
Summer Camp at the Christian Conference Center in Newton, Iowa
All who work in direct supervision of children or youth are required to be screened, have a background checks and participate in regular trainings.  View our Child Protection Policy.