Sesquicentennial (1863 - 2013)
The first meeting of what was to become the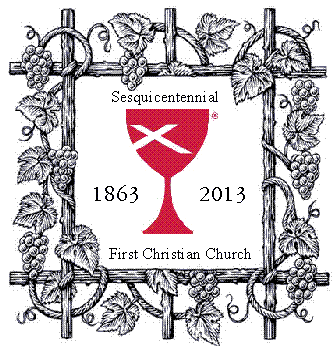 Christian church of Iowa City was held soon after Jesse Higbee, a farmer and lay minister of the Christian church in Pennsylvania, came to live in Johnson County in 1855. Mr. Higbee and his father -in-law, David Neumire, gathered their families, friends and neighbors together at Higbee Grove southeast of Iowa City and began to conduct services in a little school house there. Soon they were holding church services every Sunday, the two men taking turns preaching. ... The church prospered, and in 1863 it organized officiaIIy with 84 charter members. --From the Hedges' history of the church, AN INFORMAL HISTORY of the FIRST CHRISTIAN CHURCH.
For more about this history of the church to 1963, see the Hedges' history. This history has also been summarized.
Going back to the roots of Iowa City FCC, see the Historical Notes of Brightwood Christian Church, a church in Washington Co. Pennsylvania. The beginning of the note describes the "Cambellite Controversy," which was the spark that caused Alexander Campbell to start the movement that would become the Christian Church (Disciples of Christ). lt was from this early Disciples congregation that the founders of our congregation, Jesse Higbee and David Newmyer, came.
Also see David Hudson's Did You Know? articles.
For the church's centennial celebration, Sally Smith wrote a play depicting the history of the church to that time. See the play (very large PDF).
For a history of the denomination, see the Stone-Campbell History Project